New supported homes for Reading at Phoebe Cusden House
Published: 11 Apr 2017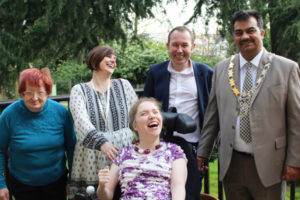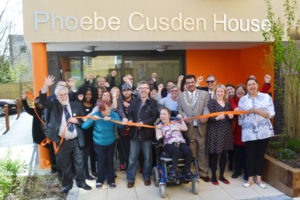 Newly renamed Phoebe Cusden House in Reading was officially opened on Friday 31 March.
Customers were pleased to show the guest of honour, Cllr Mohammed Ayub, together with other councillors and family members, around their flats and up to the rooftop terrace.
The party then enjoyed tea and cake at next-door Cedar Court care home, which shares the same estate.
Phoebe Cusden House provides 11 supported living flats for people with learning and physical disabilities, mental health and complex needs.
The building has a lift and is fully wheelchair accessible. It is also meets modern energy saving standards – with under-floor heating, biomass boilers, and recycling and composting facilities. All the floors are colour coded to help customers find their way.
The first customer moved in last December and 6 flats are currently occupied. Our team of 8 support staff provide a round-the-clock service, led by Team Leader Mandy Goodliffe.
Customer Wendy said: "My favourite thing about my flat is everything! I love having my cat Oliver with me. He's 13. Ability support me and they're great. They're so funny – I call them silly sometimes, and they laugh and I laugh.
"It was my birthday a while ago and we had a party – I still have the bunting up in my flat."
Ability's Head of Care & Support David Fox said: "It was great to see a number of very obviously happy customers enjoying the opening and more importantly greater independence in their own homes. Our service at Phoebe Cusden House is a great example of bringing Ability values to life."
The service is named after Phoebe Cusden MBE, a former Mayor of Reading. She is known for her dedicated action for the town during major flooding in 1947 and for her socialist pacifism, which led her to promote friendship between the peoples of Reading and Düsseldorf immediately after the Second World War.